Discover Chamonix's Hidden Single Track Amongst Europe's Highest Peaks
Guided Rides
Join us for an adventure around the Chamonix Valley and surrounding areas, single or multi day trips, we can tailor the riding to suit your needs.
Up to 8 riders per guide.
Prices starting at 30 euro per person
Private Instruction
Improve your technique and grow your confidence. There is no better way to improve than by taking a private coaching session.
French Carte Pro VTT
F.I.T. Level 1&2 intructor
Guided Uplift Shuttle Rides
With our minibus and trailer we show you some of the best singletrack away from the Chamonix lift systems and all whilst saving your energy for the descents.
Up to 7 riders per guide
Prices starting at 65 euro per person
Single Track Nirvana Starts Here…..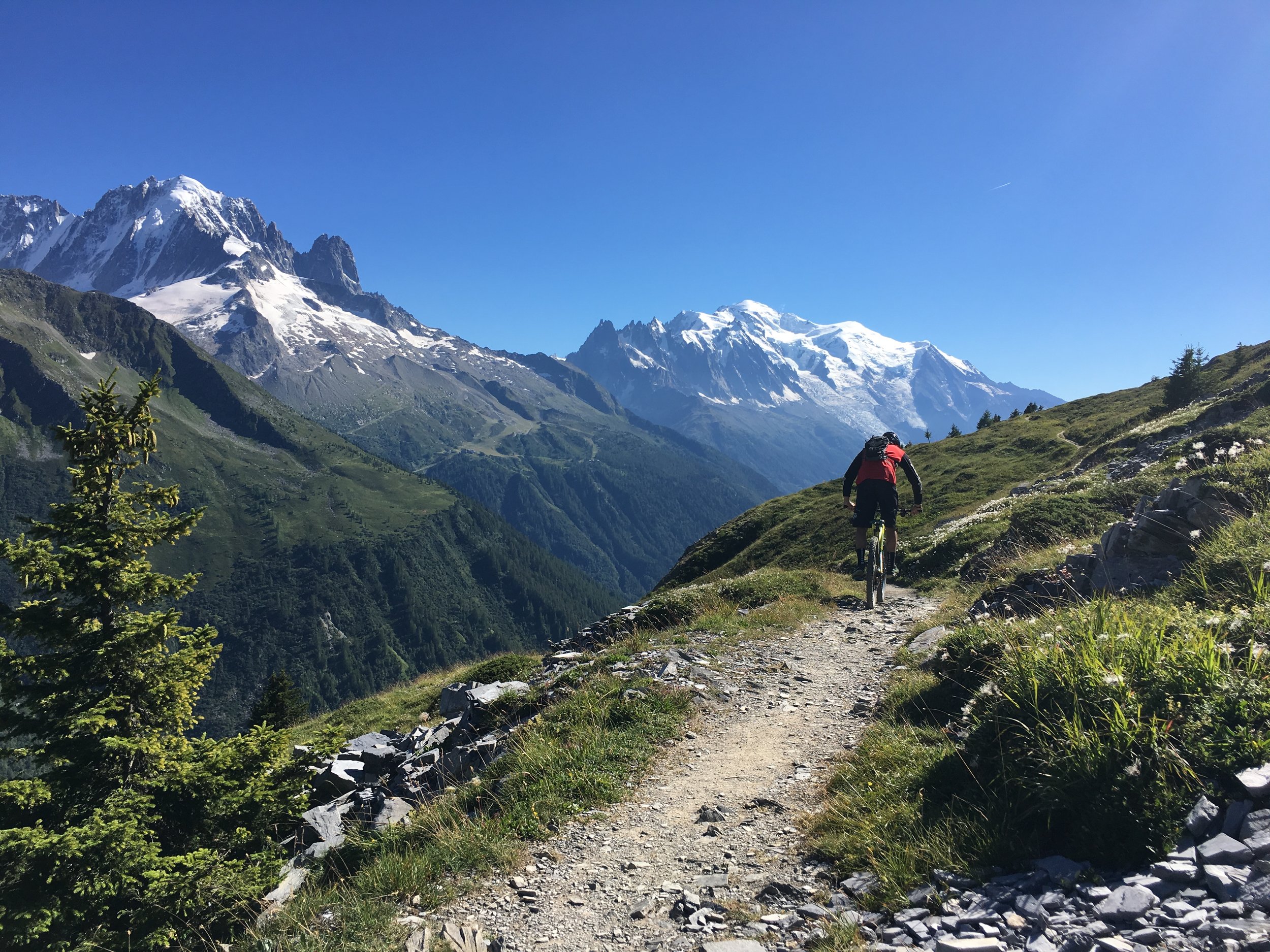 Want to come mountain biking in the Chamonix Valley and surrounding area? Not sure where to ride or want to make sure you see the best of this world class mtb playground?
We can show you some of the best single track the Chamonix Valley has to offer, as well as offering trips to the trails of nearby Italy and Switzerland, including the legendary trails of the EWS.
Whether it's a single or multi day trip, we cater for all levels of rider, as well as providing transport to and from the trails (for you and your bike), meaning you can save your energy for the riding.
With our uplift shuttle service you can ride some of the best local trails in and around Chamonix that can not be easily accessed by the ski lifts. With our minibus and trailer we will run you up and down the valley, taking the sting out of the climbs and saving your energy for the descents!
A good, competent level of riding skill and fitness is needed, as the descents can be long and technical and there will always be some peddling involved.
That said, we will always be happy to tailor the riding to your level and experience, to ensure everyone gets the most out of their time with us.
Wayne is the holder of a French Carte Pro VTT (the only British Mountain Bike Guide in the Chamonix Valley to have this), as well as being a British Cycling Qualified MTB Ride Leader. With over 15 years of riding experience in and around the Chamonix Valley we're looking forward to showing you some of our favourite trails.
Whether you are interested in single or multi day rides, we've got you covered! Chamonix is home to some the best trails in the Alps, from super flowy to steep and tech, we have it all. There is also the option to use the lift system when we can, to save our legs and gain maximum height, for some of the longest descents around!